Working in sustainable finance: key facts and stats you should know
In the context of the ongoing climate crisis, it should come as no surprise to anyone that the world of sustainable finance is undergoing significant growth. As investors become more aware of the impact their investment decisions are having on the planet, many have naturally decided to take a softer approach to fund management in order to have a positive impact on the world. Such is the genesis of sustainable finance.
As this corner of the industry grows, so too will career opportunities within the area. If you are on the hunt for a job in sustainable finance or are simply evaluating its shelf life over the next few years, here are some key facts and stats you might find of benefit.
[Working in sustainable finance: six career options]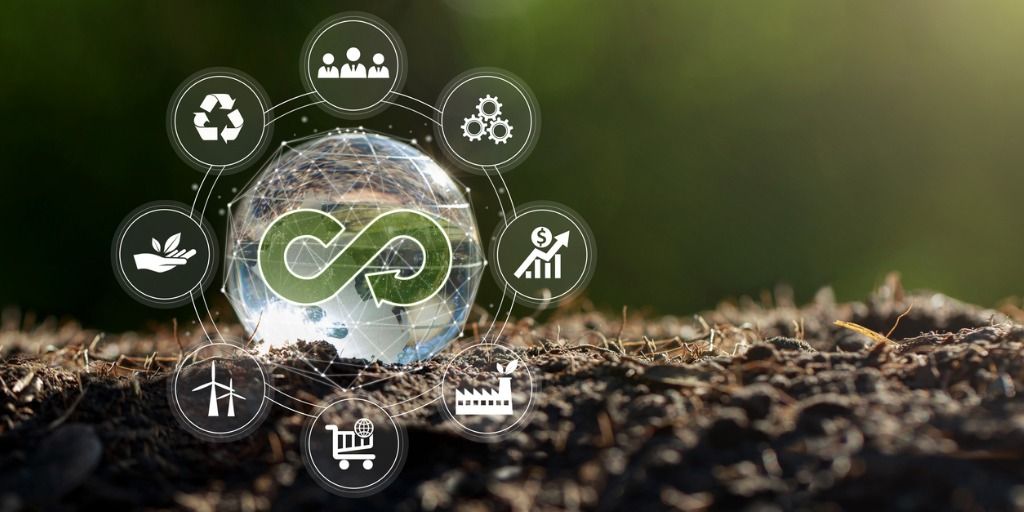 Sustainable finance facts and stats
***
Sustainable finance bond issuance surpassed USD 1 trillion for the first time during full year 2021, an increase of 45 percent compared with full year 2020 and an all-time record. As a percentage of global debt capital markets (DCMs) proceeds, sustainable finance bonds accounted for a record 10 percent of overall DCM activity during 2021, up from 6.6 percent in 2020.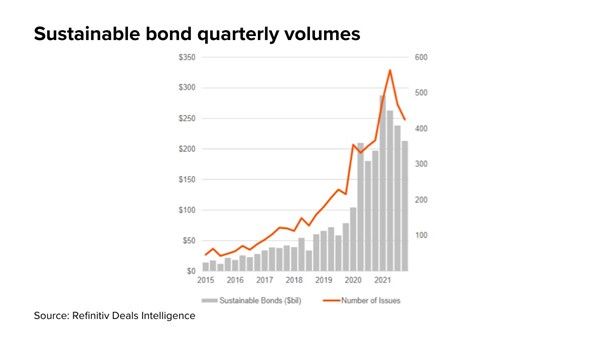 ***
Scientists have estimated that the planet is due to heat up by over three degrees Celsius by the year 2100, posing major risks to many investments which will become damaged or obsolete due to a changing environment.
***
***
Climate disasters in 2020 caused at least
USD 150 billion-worth of damage
worldwide.

***
One of the climate's biggest issues is biodiversity loss. Biodiversity can be defined as "the variety of plant and animal life in the world or in a particular habitat, a high level of which is usually considered to be important and desirable".
To counteract biodiversity loss, an extra USD 600 to 800 billion will need to be spent per year by 2030.
***

***
Renewable energy is on the rise, with the percentage of gross final energy consumption in European Union countries jumping to 22.1 percent in 2020 compared to 2010's 14.4 percent.
***

***
In Europe, the fight against greenhouse gas emissions continues, with the percentage of total greenhouse gasses reducing to
74.2 percent in 2020 from 76.8 percent in 2009
.
[What is ESG investing?]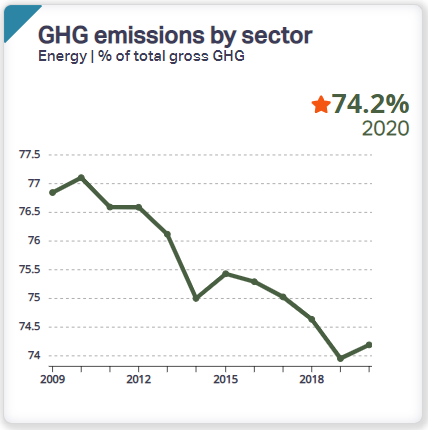 ***
Over the course of 2021, assets under management in ESG funds rose 17 percent, to USD 7,018 billion, according to data from Lipper. This compares with growth of 12.7 percent in the overall funds market. Overall, flows into ESG funds in 2021 reached USD 814 billion for 2021.
***


***
The FTSE Environmental Opportunities 100, which comprises the largest companies globally that earn significant revenues from the green economy, returned 22.5 percent last year, four percentage points ahead of the FTSE Global All Cap.
***

***
Mergers & Acquisitions (M&A) activity involving sustainable companies totaled USD 196.5 billion during full year 2021, more than three times that of 2020's levels and an all-time high. Nearly 1,275 deals were announced during full year 2021, a 60 percent increase compared with 2020.
***

***
In 2021, global ESG Funds exhibited an annual growth of 12 percent although at a slower growth pace than that observed in 2020 (28 percent) and 2019 (21 percent).
***

***
ESG equity funds continued to be by far the largest fund asset class in 2021 with 50.3 percent of total ESG funds and over twice the size of fixed income which represents 22.1 percent of the total.
***

***
Asia Pacific accounted for an impressive 89 percent of sustainable equity issuance in the first half of 2022, accounting for four of the largest ten offerings, including the massive USD 11 billion outlier raised in the flotation of South Korea's electric vehicle battery maker, LG Energy Solution in January.
***

***
M&A involving sustainable companies held up well in the first half of 2022, despite wider market jitters.
More than
USD 90 billion
of deal activity was announced during the period,
just 3 percent
on the same period last year. Meanwhile, the number of M&A deals surged
22 percent to reach 670
, an all-time high for any first half period.
***

***
China was the most active country for sustainable corporate acquisitions in 2022, taking 18 percent of the market, and the wider Asia Pacific region constituted five of the ten largest M&A transactions.
***

***
Global borrowing by issuing green bonds and loans, and equity funding through initial public offerings targeting green projects, swelled to USD 540.6 billion in 2021 from USD 5.2 billion in 2012.
***

***
Green bonds accounted for 93.1 percent of total green finance globally between 2012 and 2021. In 2021, global green bond issuance stood at USD 511.5 billion, compared with USD 2.3 billion in 2012.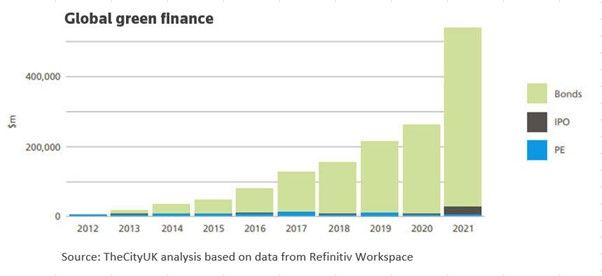 Closing thoughts
The world of sustainable finance is undergoing a period of growth as it looks to cement its position within the finance industry. Those assessing career options going forward would be well advised to consider sustainable finance as a means to tackle one of the world's most important issues through business.
References