Level: Beginner

Duration: 8.4 hours

Access: 1 Year
This course outlines the role of the major participants in financial markets – bank, asset managers, wealth managers, pension/retirement funds, insurance companies, and shadow banking entities.


This course is only suitable for

desktop

use.
#1 Shareable Certificate
Earn a certificate upon completion.
#2 100% Online Learning
Start straight away and learn at your own pace.
#3 Beginner Level
This course is suitable for anyone looking to learn about the financial industry.
#4 Course Duration
Tutorial time of 8.4 hours.
#5 Accepted for CPE
Many of the tutorials in this course are accepted for CPE by some of the world's largest financial associations.
2. Business of Investment Banking
Topic 1: Industry Structure & Development
Topic 2: Conflicts of Interest
Topic 3: Mergers & Acquisitions (M&A)
Topic 4: Underwriting
Topic 5: Other Business Lines
3. Business of Corporate Banking
Topic 1: Corporate Banking Industry
Topic 2: Corporate Banking vs. Investment Banking
Topic 3: Customer Segmentation
Topic 4: Business Structure
Topic 5: Target Market Identification
Topic 6: Revenue & Costs
Topic 7: Risks & Profitability
Topic 8: Strategy Execution
4. Business of Consumer (Retail) Banking
Topic 1: Overview of Retail Banking
Topic 2: Digital Banking
Topic 3: Asset & Liability-Side Products
Topic 4: Payments Services
Topic 5: Other Products
Topic 6: Profitability of Retail Banks
Topic 7: Ownership
Topic 8: Regulation
Topic 1: Overview of Shadow Banking
Topic 2: Regulatory Approach to Shadow Banking
Topic 3: Policy Implementation & The Future of Shadow Banking
6. Business of Asset Management
Topic 1: Overview of Asset Management
Topic 2: Asset Management Sectors
Topic 3: Asset Allocation
Topic 4: Passive & Active Management
Topic 5: Investment Funds
Topic 6: Asset Management Industry
7. Business of Wealth Management
Topic 1: Private Banking & Wealth Management
Topic 2: Wealth Management
Topic 3: Industry Development
Topic 4: Wealth Management Firms
Topic 5: Private Client Service Propositions
Topic 6: Sources of Revenue
Topic 7: Industry Challenges
8. Business of Pensions & Retirement
Topic 1: Overview of Retirement Funds
Topic 2: Retirement Fund Features
Topic 3: Private Retirement Fund Industry
Topic 4: Industry Challenges
Topic 5: Industry Responses
Topic 6: Opportunities & Strategies
Topic 1: Principles of Insurance
Topic 2: Organization & Distribution
Topic 3: Underwriting & Pricing
Topic 4: Claims & Reinsurance
Topic 5: Regulation & Conduct of Business
Topic 6: Life Insurance
Topic 7: Nonlife Insurance
Topic 8: Risk Management & Performance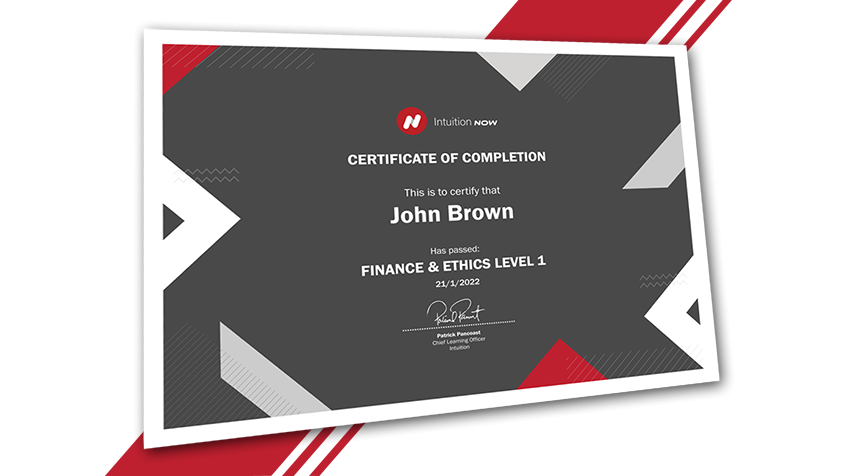 Gain Industry Knowledge and a Certification
Access your learning wherever you are.
Test your knowledge throughout each tutorial with
regular review questions.
End each tutorial with a short, graded test designed to enhance knowledge retention.
Gain a shareable professional certification.
Meet Your CPE Requirements
Many examination bodies now mandate annual training, with some requiring alumni to complete
up to 35 hours a year
.
To support learners, Intuition Now works with
key accrediting bodies
including the
Chartered Insurance Institute,
the
Financial Planning Association of Australia
and the
National Association of State Boards of Accountancy
to ensure our learning materials can be used to meet your CPE requirements.