Level: Beginner

Duration: 6.4 hours

Access: 1 Year
This course describes the major financial markets and products, including equities (stocks), bonds, short-term (money market) instruments, foreign exchange (FX), and derivatives.


This course is only suitable for

desktop

use.
#1 Shareable Certificate
Earn a certificate upon completion.
#2 100% Online Learning
Start straight away and learn at your own pace.
#3 Beginner Level
This course is suitable for anyone looking to learn about the major financial markets.
#4 Course Duration
Tutorial time of 6.4 hours.
#5 Accepted for CPE
Many of the tutorials in this course are accepted for CPE by some of the world's largest financial associations.
1. Financial Markets - An Introduction
Topic 1: Financial Markets
Topic 2: Funding Markets
Topic 3: Transactional Markets
Topic 4: Risk Management Markets
Topic 5: Financial Market Participants
Topic 6: Marketplace Characteristics
2. Money Markets - An Introduction
Topic 1: What are Money Markets?
Topic 2: Interbank Lending
Topic 3: Repurchase Agreements (Repos)
Topic 4: Federal Reserve Requirements & Fed Funds
Topic 5: Treasury Bills
Topic 6: Certificates of Deposit & Commercial Paper
Topic 7: Other Key Money Market Products
Topic 8: Risks in Money Markets
3. Foreign Exchange (FX) Markets - An Introduction
Topic 1: Need for FX Market
Topic 2: Overview of FX Market
Topic 3: Uses of the FX Market
Topic 4: World Currencies
Topic 5: Exchange Rate Systems
Topic 6: Currency Union/Areas
4. Bond Markets - An Introduction
Topic 1: Overview
Topic 2: Key Features of Bonds
Topic 3: Yield
Topic 4: Liquidity
Topic 5: Bond Formats
Topic 6: Settlement
Topic 7: Issuers & Investors
5. Equity Markets - An Introduction
Topic 1: Equity Markets
Topic 2: Dividends
Topic 3: Common Stock
Topic 4: Preferred Stock & Other Equity Types
Topic 5: Stock Exchanges
Topic 6: Algorithmic Trading & HFT
Topic 7: Orders
Topic 8: Equity Metrics & Ratios
6. Derivatives - An Introduction
Topic 1: Overview of Derivatives
Topic 2: Types of Derivatives
Topic 3: Swaps
Topic 4: Uses of Derivatives
Topic 5: Settlement
Topic 6: Exchange-Traded & OTC Derivatives
Topic 7: Clearing
Topic 1: Marketplaces
Topic 2: Financial & Nonfinancial Assets
Topic 3: Derivatives Strategies
Topic 4: Embedded Derivatives
Topic 5: Linear & Nonlinear Products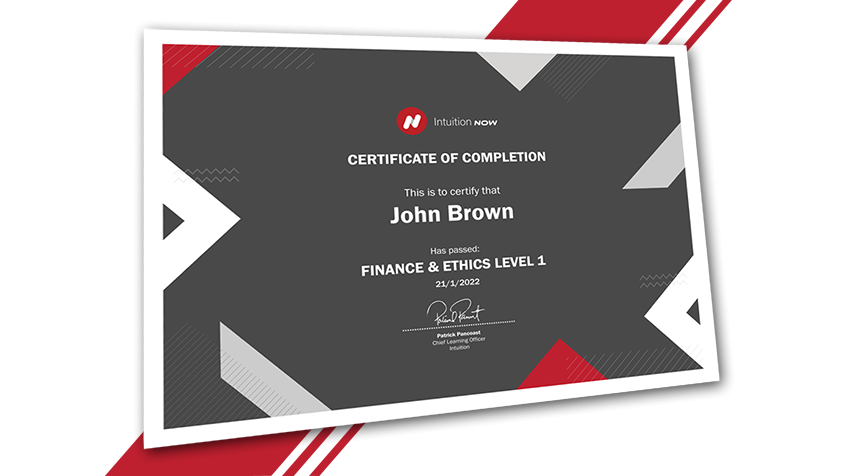 Gain Industry Knowledge and a Certification
Access your learning wherever you are.
Test your knowledge throughout each tutorial with
regular review questions.
End each tutorial with a short, graded test designed to enhance knowledge retention.
Gain a shareable professional certification.
Meet Your CPE Requirements
Many examination bodies now mandate annual training, with some requiring alumni to complete
up to 35 hours a year
.
To support learners, Intuition Now works with
key accrediting bodies
including the
Chartered Insurance Institute,
the
Financial Planning Association of Australia
and the
National Association of State Boards of Accountancy
to ensure our learning materials can be used to meet your CPE requirements.