Level: Beginner

Duration: 8 hours

Access: 1 Year
In this Microsoft Office Excel Course, you will learn all the tools and formulas you need to perform professional financial analysis and modelling.


This course is only suitable for

desktop

use.
#1 Shareable Certificate
Earn a certificate upon completion.
#2 100% Online Learning
Start straight away and learn at your own pace.
#3 Beginner Level
This course is suitable for anyone looking to learn the basics of Excel for finance.
#4 Course Duration
Tutorial time of 8 hours.
#5 Blended Learning
The course is divided into topic based modules and delivered via a combination of video and interactive spreadsheet based exercises.
#6 Accepted for CPE
Many of the tutorials in this course are accepted for CPE by some of the world's largest financial associations.
Topic 1: Menus & Shortcut Basics
Topic 2: Basic Operators
Topic 3: Mathematical Operations
Topic 4: Formulas & Calculation Functions (Part 1)
Topic 5: Formulas & Calculation Functions (Part 2)
Topic 6: Naming & Referencing Cells
Topic 7: Editing Cell Names
Topic 8: Formatting Basics
Topic 9: Date Functions
Topic 10: Pivot Tables
Topic 11: Lookup Functions
Topic 12: Conditional Statements
Topic 13: Conditional Formatting
Topic 14: Data Validation
Topic 15: Data Tables
Topic 16: Combo Box Control for Dashboards
Topic 17: Goal Seek & Scenario Manager
Topic 18: Solver
Topic 19: Common Errors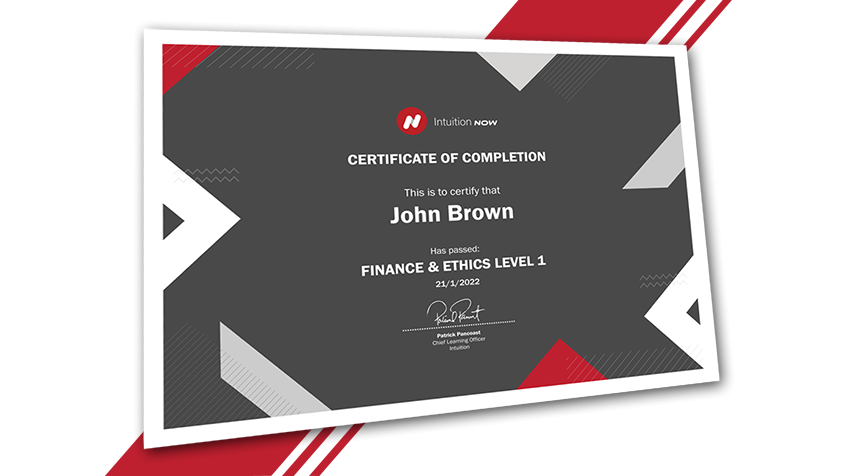 Gain Industry Knowledge and a Certification
Access your learning wherever you are.
Test your knowledge throughout each tutorial with
regular review questions.
End each tutorial with a short, graded test designed to enhance knowledge retention.
Gain a shareable professional certification.
Meet Your CPE Requirements
Many examination bodies now mandate annual training, with some requiring alumni to complete
up to 35 hours a year
.
To support learners, Intuition Now works with
key accrediting bodies
including the
Association of Chartered Certified Accountants
and the
Chartered Institute of
Management Accountants
to ensure our learning materials can be used to meet your CPE requirements.