Learn How to Trade and Invest with Discipline
This trading course combines 12 hours of webinars with 6 eLearning modules multiple quizzes to cover the key aspects of disciplined trading and investing.
It uses Bloomberg charts to discuss fundamental analysis and take an in depth look into technical analysis, behavioural finance and risk management.
It also uses decades of research and Python coded back tests to highlight the rules, habits and traits of the most profitable, consistent and disciplined traders, whilst also highlighting the repetitive and predictable habits of the unprofitable traders (see full course outline below).
GAIN A PROFESSIONAL CERTIFICATION
Many of the tutorials in this course are accepted for CPE by some of the world's largest financial associations.
UNDERSTAND KEY FINANCIAL CONCEPTS
As financial markets continue to evolve its critical traders and investors understand disciplined trading strategies, effective risk management and learn to manage their own destructive behavioural biases in this dynamic environment.
LEARN AT YOUR OWN PACE
Learn at your own pace and at times that suit you. This course is designed for desktop use only. Course content is available on demand and can be completed at a time that suits your schedule.
Trainer Profile - James Brodie
James Brodie is a Senior Learning Consultant with Intuition, specializing in Global Financial Markets, Technical Analysis, Behavioral Finance and
Performance Enhancement.

James has over 27 years of front office experience with major investment banks in London, New York, Tokyo, and Singapore where he traded Interest Rate Derivatives, Foreign Exchange, and Currency Options. He specializes in Technical Analysis and Behavioral Finance, is a Chartered Market Technician (C.M.T.) and a Board member of the Chartered Market Technicians Association. He has appeared on Bloomberg television numerous times conducting live interviews on current market themes and trends. He then became the Chief Investment Officer for The Sherpa Funds, a Singapore based Hedge Fund where he programmed algorithmic trading systems (A.I.) based on rules developed from large data sets using his trading and technical analysis background.


In these roles, James has acquired a great deal of experience training and coaching both front-office and support staff in the technical and business issues of modern banking. As a Senior Learning Consultant with Intuition, James designs and delivers specific courses around technical analysis, strategic trading, behavioral finance, new technologies ('FinTech') and relevant programs that address knowledge gaps across financial institutions. He also uses live Bloomberg charts to give examples his topics in the current financial markets.


Clients include; ArcelorMittal, ANZ Bank, Bank ABC, Bank Julius Baer, Barclays Bank, Bahrain Institute of Banking and Finance, BOT Mitsubishi, B.P., BSI Bank, Citibank, CIMB, Citi Private Bank, Credit Suisse, Credit Suisse Private Bank, CPA Australia, CRH, Deloitte, Deutsche Bank, DBS Bank, Fidelity, Great Eastern, HSBC, JPMorgan, JPMorgan Asset Management, LGT Bank, Malaysian Investment Banking Association, Manulife Asset Management, Natixis, Noble Group, Nomura, Northern Trust, OCBC, Ratings Agency of Malaysia, RBC Wealth Management, Société Generale, Standard Chartered Bank, UBS, UniCredit Bank and UOB.


James also rowed for Great Britain and won medals at three consecutive World U23 rowing championships. He is a three-time national rowing champion of Great Britain, and now competes regularly in Ironman triathlons around the world.
What to Expect From the
Course Content

The course is divided into topic based webinars and eLearning modules. View the video here to preview the webinar content.
Introduction to fundamental analysis, technical analysis and behavioural finance
The first chapter introduces fundamental analysis, technical analysis, behavioral finance and risk management. These are discussed with reference to current market structure, trends, themes and risks, immediately highlighting trading strategies and risk management techniques.
Duration 90 Minutes
Dow theory, intermediate trends and chart construction
This tutorial looks at looks at some key technical analysis concepts such as Dow Theory, trend lines and different chart types. Python back testing is used to support key concepts and Bloomberg charts are used to highlighting trend lines and candlestick price action.

Duration 50 Minutes
Building a trading process
This tutorial introduces the importance of building a disciplined process using the tools and concepts covered on the course. Correlations between markets are also discussed and the first of many trading rules focusing on disciplined risk management.
Duration 80 Minutes
Technical analysis concepts and trading strategies
Chapter 2 continues to build on technical analysis concepts, trading strategies and risk management with a focus on Elliot wave theory, volume & open interest, Fibonacci analysis, volatility (Average True Range) and market psychology.

Duration 60 Minutes
Reversal patterns and trading strategies
This tutorial looks at trend reversals from the perspectives of price action, market psychology and also trading strategies.

Duration 32 Minutes
Continuation patterns and trading strategies
This tutorial looks at the looks at trend continuation patterns. Again, the focus is not so much on pattern recognition but the market psychology behind the price action, and above all identifying powerful risk/reward trading strategies.
Duration 56 Minutes
Identifying trends, moving averages and trend following strategies
This tutorial introduces trend following trading strategies discussing trend lines, gaps in price action and focusing on moving averages. The popularity of trend following is discussed in detail with the importance of taking profit.
Trend following strategies
In this tutorial we build and back test a trend following trading strategy in Python to highlight both its effectiveness and also the importance of having a disciplined trading process to eradicate our destructive behavioral biases.
Oscillators, Bollinger bands and mean reverting strategies
In this tutorial look we discuss oscillators, Bollinger bands and mean reverting trading strategies. Again, we build and back test a mean reverting strategy in Python to highlight the importance of a process, discipline and self-awareness.
Behavioural finance – why we make irrational decisions (and how to overcome them)
In this tutorial, we take a deeper look into behavioral finance and not only why we make irrational financial decisions but more importantly how we can overcome them.
How we make decisions and our emotional biases
This tutorial looks even further into how we make decisions. It focuses on how the brain works (and fails under pressure), chemicals in our body that affect our decision making and also our different personality types and how these can interfere with our disciplined trading and investing strategies. This chapter also has research into the common characteristics of top traders, and also the predictable and repetitive reasons so many traders fail.
Duration 74 Minutes
Peak performance trading
This tutorial focuses on risk management. The critical importance of position sizing is highlighted with several techniques discussed along with stop loss levels, taking profit and the impact of volatility.
Duration 60 Minutes
Risk management and peak performance trading
This final tutorial focuses on peak performance and how to get 'into the zone!'. We look at the techniques and strategies of top athletes and business leaders and with scientific research we highlight simple proven techniques for instantly reducing stress and sharply improving mental & physical performance

Duration 60 Minutes
Equity Trading - An Introduction
This tutorial describes how equity trades are executed and demystifies some of the jargon associated with the buying and selling of equity securities.
Duration 60 Minutes
FX Spot Market – Trading
This tutorial looks at the buying and selling of currencies, the means by which currencies are traded, and how trades are actually transacted in the market. The tutorial also describes the positions that traders may take in currencies, the constraints that may be applied to those positions, and how the profit/loss on those positions is calculated.

Duration 60 Minutes
Crypto Assets
Crypto assets are applications of distributed ledgers that are designed as a medium of exchange or store of wealth, although their infrastructure may be used for other purposes. The most prominent of these is Bitcoin, but there are many other examples. This tutorial provides an overview of crypto assets, and explores the functionality of Bitcoin, Ethereum, Ripple, and others.

Duration 45 Minutes
Commodities – Trading
This tutorial explains a range of important futures pricing concepts, such as cost of carry, contango, and backwardation, many of which are particular to the commodities market. A variety of commodity trading and hedging strategies are also discussed in detail.

Duration 60 Minutes
Options - An Introduction
This tutorial outlines the basic structures and terminology associated with options, and looks at the ways in which they are used. The tutorial also describes option variations across asset classes and markets.
Duration 60 Minutes
Quantitative Trading - An Introduction
Quantitative trading is a subset of the broader topic of quantitative finance, and covers all aspects of using mathematical methods in trading markets. This tutorial provides a high-level overview of the field of quantitative trading, looking at it from the perspective of both buy-side and sell-side firms.

Duration 45 Minutes
Begin your trading journey today with this online course for only €249 | £215 | $294.
COURSE FEATURES
Delivery: Webinar & eLearning modules containing course slides and video content
Webinars: 13 webinars over 12 hours
eLearning: 6 modules over 5 hours
Devices: Desktop
Assessment: Test after each module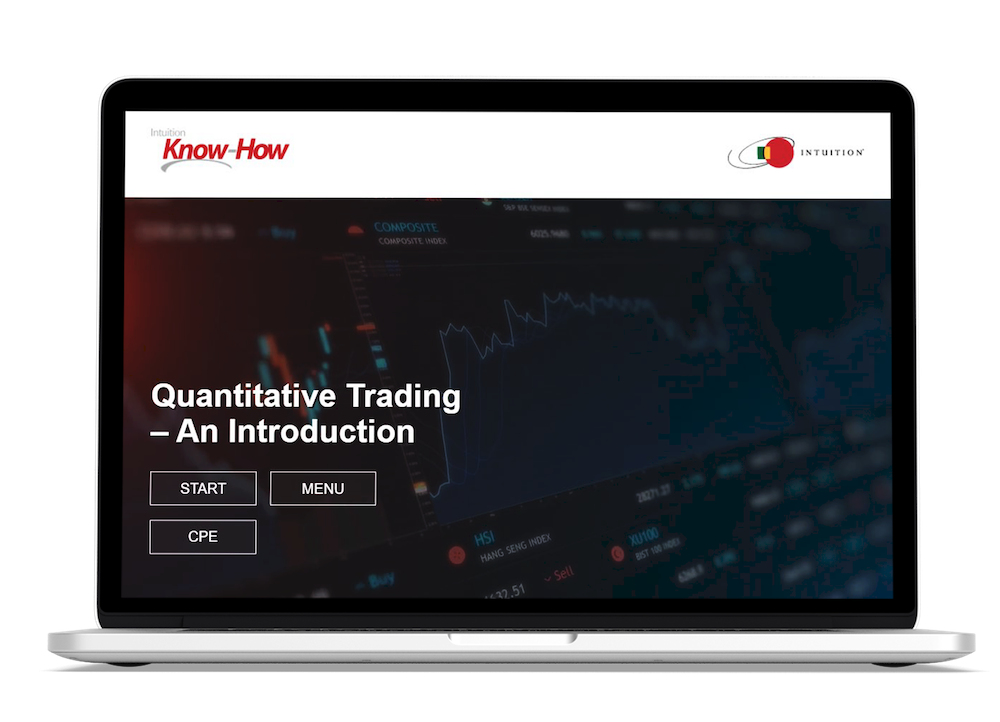 Get started for free - trial our content first!
Gain access to the first webinar of the course.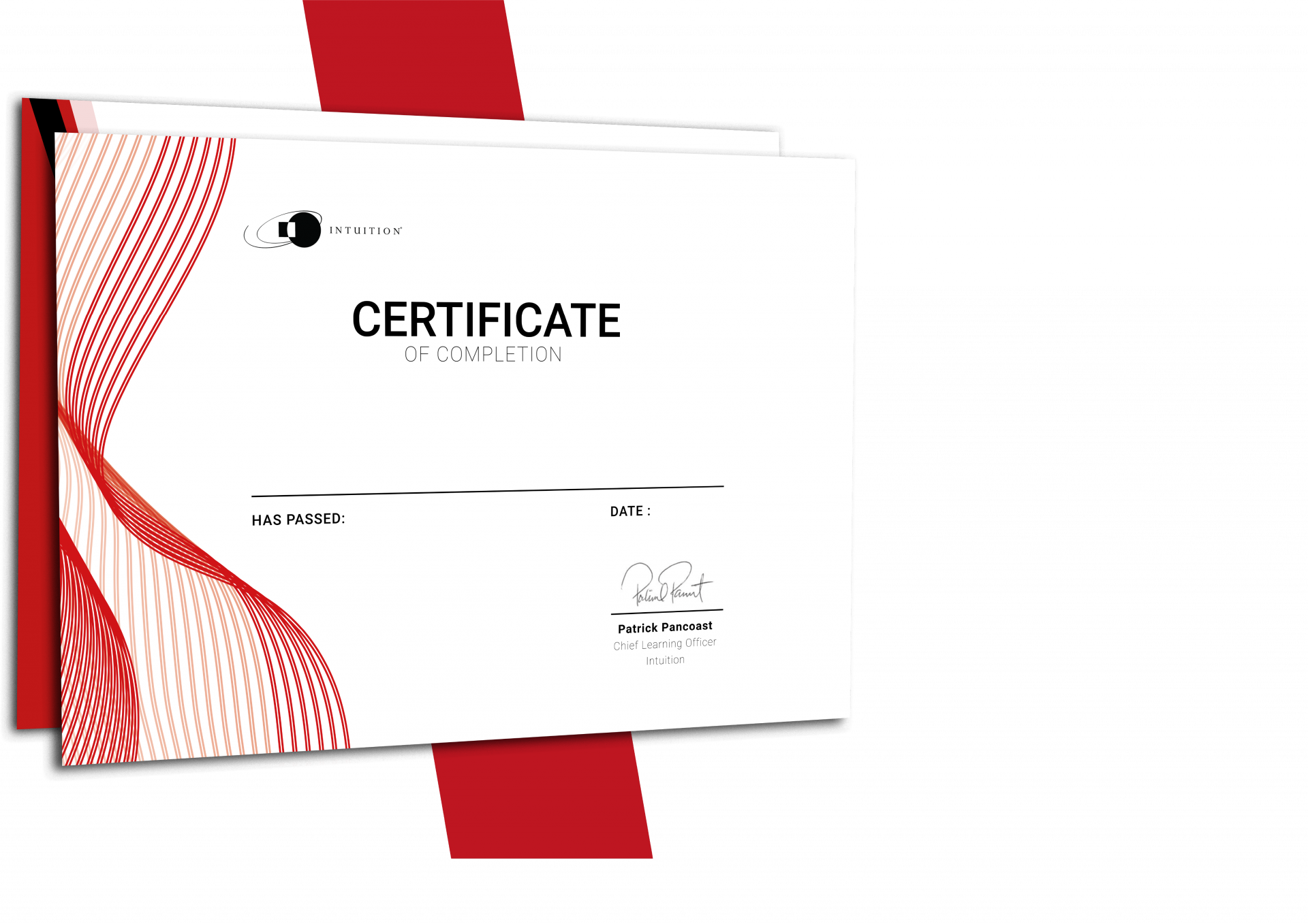 Created with the Learner in Mind
Access your learning on desktop.
Test your knowledge throughout each webinar and tutorial with
regular review questions.
End each tutorial with a short, graded test designed to enhance knowledge retention.
Gain a shareable professional certification.
Trial The Course For Free!
Gain access to the first webinar of the course.
In this 90 minute webinar James introduces Technical Analysis, Fundamental Analysis and Behavioral Finance.
If you are undecided if this course is right for you, trial this webinar first.