Trading and Investing with Discipline
Level: Beginner

Duration: 17 hours

Access: 1 Year
In this course, you will gain an in-depth insight into the key aspects of disciplined trading and investing from James Brodie CMT.


This course is only suitable for

desktop

use.
Trainer Profile - James Brodie CMT
James Brodie is a Senior Learning Consultant with Intuition, specializing in Global Financial Markets, Technical Analysis, Behavioral Finance and
Performance Enhancement.


James has over 27 years of front office experience with major investment banks in London, New York, Tokyo, and Singapore where he traded Interest Rate Derivatives, Foreign Exchange, and Currency Options. He specializes in Technical Analysis and Behavioral Finance, is a Chartered Market Technician (C.M.T.) and a Board member of the Chartered Market Technicians Association. He has appeared on Bloomberg television numerous times conducting live interviews on current market themes and trends. He then became the Chief Investment Officer for The Sherpa Funds, a Singapore based Hedge Fund where he programmed algorithmic trading systems (A.I.) based on rules developed from large data sets using his trading and technical analysis background.


In these roles, James has acquired a great deal of experience training and coaching both front-office and support staff in the technical and business issues of modern banking. As a Senior Learning Consultant with Intuition, James designs and delivers specific courses around technical analysis, strategic trading, behavioral finance, new technologies ('FinTech') and relevant programs that address knowledge gaps across financial institutions. He also uses live Bloomberg charts to give examples his topics in the current financial markets.


Clients include; ArcelorMittal, ANZ Bank, Bank ABC, Bank Julius Baer, Barclays Bank, Bahrain Institute of Banking and Finance, BOT Mitsubishi, B.P., BSI Bank, Citibank, CIMB, Citi Private Bank, Credit Suisse, Credit Suisse Private Bank, CPA Australia, CRH, Deloitte, Deutsche Bank, DBS Bank, Fidelity, Great Eastern, HSBC, JPMorgan, JPMorgan Asset Management, LGT Bank, Malaysian Investment Banking Association, Manulife Asset Management, Natixis, Noble Group, Nomura, Northern Trust, OCBC, Ratings Agency of Malaysia, RBC Wealth Management, Société Generale, Standard Chartered Bank, UBS, UniCredit Bank and UOB.


James also rowed for Great Britain and won medals at three consecutive World U23 rowing championships. He is a three-time national rowing champion of Great Britain, and now competes regularly in Ironman triathlons around the world.
Introduction to fundamental analysis, technical analysis and behavioural finance
Duration 90 Minutes
Dow theory, intermediate trends and chart construction

Duration 50 Minutes
Building a trading process
Technical analysis concepts and trading strategies

Duration 60 Minutes
Reversal patterns and trading strategies

Duration 32 Minutes
Continuation patterns and trading strategies

Duration 56 Minutes
Identifying trends, moving averages and trend following strategies
Trend following strategies
Oscillators, Bollinger bands and mean reverting strategies
Behavioural finance – why we make irrational decisions (and how to overcome them)
How we make decisions and our emotional biases

Duration 74 Minutes
Peak performance trading


Duration 60 Minutes
Risk management and peak performance trading

Duration 60 Minutes
Equity Trading - An Introduction

Duration 60 Minutes
FX Spot Market – Trading

Duration 60 Minutes
Crypto Assets

Duration 45 Minutes
Commodities – Trading

Duration 60 Minutes
Options - An Introduction

Duration 60 Minutes
Quantitative Trading - An Introduction
COURSE FEATURES
Delivery: Webinar & eLearning modules containing course slides and video content
Webinars: 13 webinars over 12 hours
eLearning: 6 modules over 5 hours
Devices: Desktop
Assessment: Test after each module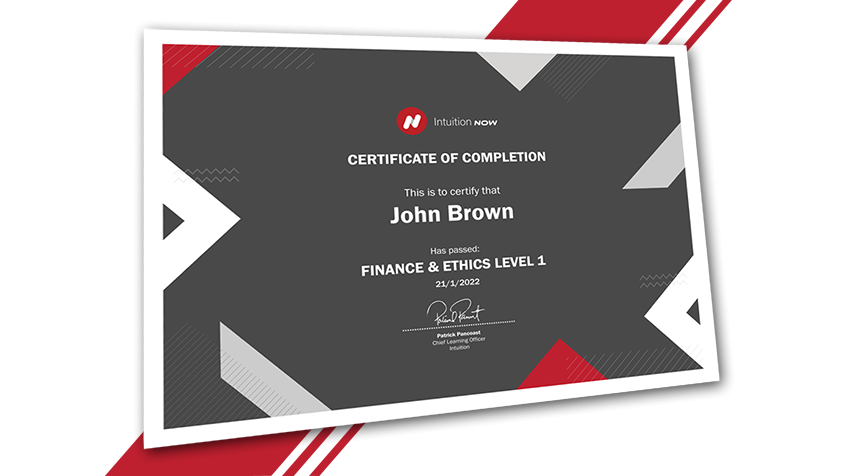 Gain Industry Knowledge and a Certification
Access your learning wherever you are.
Test your knowledge throughout each tutorial with
regular review questions.
End each tutorial with a short, graded test designed to enhance knowledge retention.
Gain a shareable professional certification.